Do's And Don'ts For New Concrete In Winters
Winter has arrived. Everywhere there's snow around us. As business owners, we have to be prepared for the safety of our near and dear ones as well as our employees. Apart from that, it's imperative to take care of our property and valuables in this harsh winter. We cannot have a lackadaisical attitude towards getting the correct ice melt for concrete or snow removal equipment.
Thinking of concrete we always wonder if using an ice melt is safe on new concrete or not. If not, what to use on the new concrete and how to remove ice and snow. In this article, we will answer every nagging question around ice melt and new concrete. By the end of this article, you will know exactly what to avoid on your new concrete and how to remove snow and ice without harming your newly built concrete.
The majority of the ice melt products in the market have either salt or chlorides such as calcium chloride, magnesium chloride, etc. A number of calcium chloride ice melt industrial products are being sold in the market with different brand names.
The real reason why you must use an ice melt safe for concrete is that new concrete is susceptible to damage. It has open pores. Once you pour or apply ice melt on new concrete, it converts ice into slush or brine, thus making it slightly watery. The water seeps inside the concrete further, and the constant freeze/thaw cycle disturbs the strength of the concrete, thus leading to cracks.
Safe Thaw- Ice Melt Safe For Concrete
Safe Thaw is an eco-friendly ice melt recommended for concrete over 12 months old.
Despite being an ice melt, it does not rust or causes any damage because it comprises all-natural ingredients, such as modified carbonyl diamide crystal, special glycols, non-ionic surfactants, traction agents, and special inhibitors.
Once the crystals touch the icy surface, it lets out a deicing liquid that speeds up the melting process. As a result, it works well even in sub-zero temperatures. In addition, Safe Thaw prevents the water from refreezing, thus making the concrete surface non-slippery. It works on any surface, including jet-ways, train platforms, bridges, and roads.
Note: We do not recommend using any ice melt for new concrete, including Safe Thaw, within the first 12 months of pouring concrete. You must always test it on a small patch of stamped and unsealed concrete to ensure its stability.
100% salt & chloride-free, fast acting Ice Management Solution
Conclusion
From calcium chloride ice melt industrial to regular salt, you have to be careful while using ice melt. Always use an ice melt safe for new concrete. Instead of looking for what melts ice fastest, look for the safest way to remove snow from your new concrete.
Safe Thaw works wonders on cured and settled concrete over a year, thus giving you the desired results.
Try Also Our Other Winter Safety Products: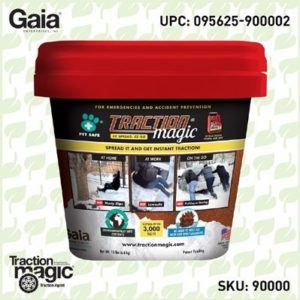 Traction Magic
Stay safe on slippery surfaces with a product that's 100% natural and safe for pets, people, and your property. Use Traction Magic on sidewalks, steps, or as instant traction for your car. Traction Magic provides instant traction on all icy surfaces.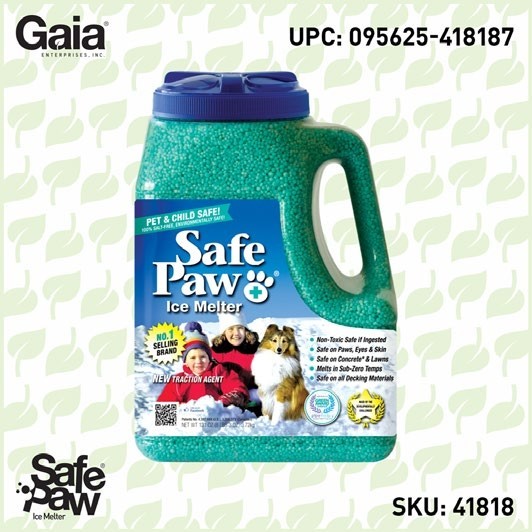 Safe Paw
Imagine an ice melt you can put down and never worry about. It won't harm animals or children, and it won't damage your property. That's Safe Paw. Unlike anything else on the market, Safe Paw can change how winter affects our planet.